Interview: Finding voice – Katy Abbott on composing Hidden Thoughts II: Return to Sender
Celebrated Melbourne Conservatorium composer Katy Abbott discusses her latest work, incorporating letters sent by members of the Australian public to detained asylum seekers on Nauru.
"I love writing for the voice, and working with everyday words, throwaway sentiments, and bits of text you might otherwise skip over. When you set ordinary words to music and give them airtime – or juxtapose them in a certain way – an audience can hear them differently, and that can be incredibly powerful."
This is Dr Katy Abbott, an award-winning Australian composer and Senior Lecturer in Composition at the Faculty of Fine Arts and Music at the University of Melbourne.
Abbott is talking about her latest musical work, Hidden Thoughts II: Return to Sender, which uses text from letters sent by ordinary Australians to detained asylum seekers. Performed by the Flinders Quartet, together with mezzo-soprano Dimity Shepherd, and actor Richard Piper as narrator, this piece will have its world premiere on 23 July, staged by the Melbourne Digital Concert Hall and streamed live to ticket-holders across Australia and overseas.
Warm and approachable, Abbott is quick to dispel any notion that a classical music composer should be intimidating, or that the music might be elitist. "I'm not writing for people who necessarily know what a libretto is," she reassures, saying that she came to professional composing relatively late, at the age of 27, via roundabout routes, including a Bachelor of Education in Music Teaching, starting a nursing degree, choir conducting and pop song composing. Part of her PhD, completed in 2007 at the Melbourne Conservatorium, was like "a dummy's guide for how to write for the solo voice".
Communicating what she does to the layperson is part of her special skillset and the artist's statement on her website underlines this: "I  seek to unpack the human side of life; humour, foibles, quirky things we do and say, beauty, grief and friendship."
We'd hoped to conduct this interview at a café or Abbott's home studio, but instead we had to talk through our computer screens in the midst of Melbourne's second COVID-19 lockdown. Likewise, a digital premiere was not what Abbott dreamt of as she was creating Hidden Thoughts II in 2019, with the assistance of an Australia Council of the Arts Fellowship. The original plan was to premiere at the Canberra International Festival of Music in May 2020, and she had even written in some audience participation for the final movement.
"I was really looking forward to hearing this congregational hymn-sound at the end, and it's a shame it won't be like that. But I feel incredibly privileged and honoured to have a piece of work being performed at all right now, and it will be special in its own way."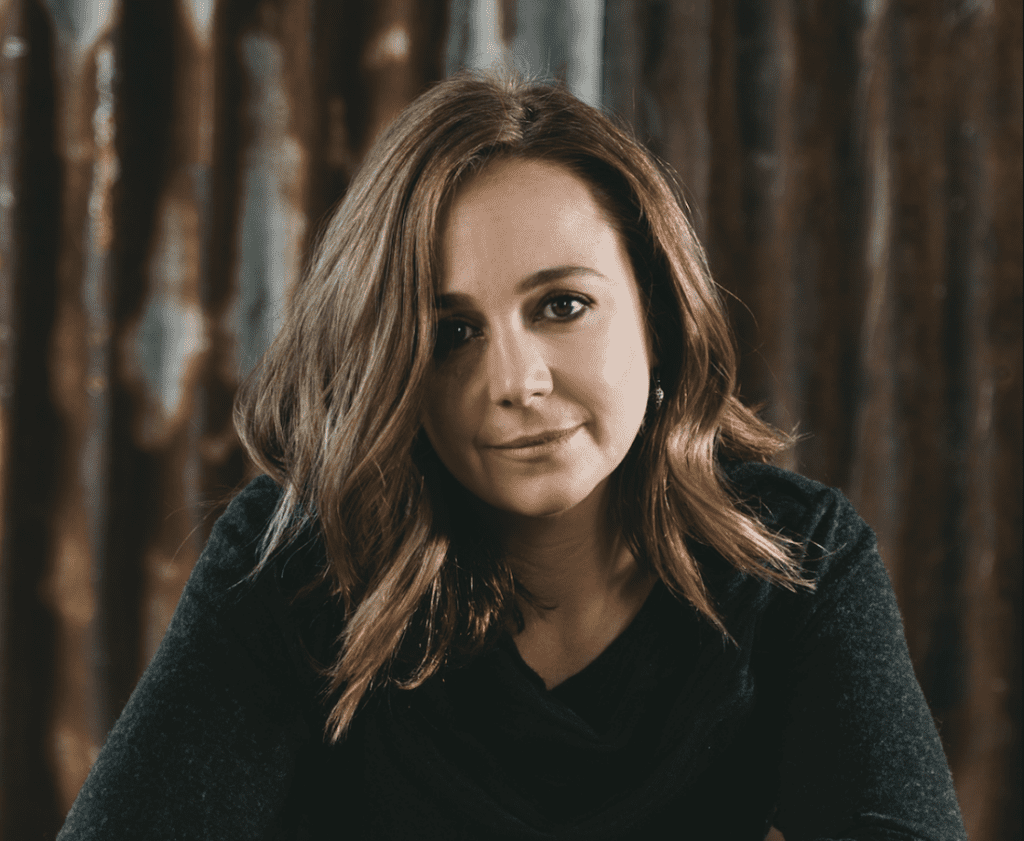 Composer Katy Abbott

The story of Hidden Thoughts II begins back in 2013, when barrister and human rights advocate Julian Burnside AO asked Australians to write letters of comfort and support to asylum seekers detained on Nauru. In 2015, nearly 2,000 letters were sent back unopened, marked "return to sender". Reading about it at the time, Abbott was outraged. She had always intended to write one of those letters; now it was heartbreaking to think of those blighted attempts at connection.
She remembered those letters again while finishing her acclaimed Hidden Thoughts I (2017), a festival piece for The Song Company and Syzygy Ensemble. Accessible, witty and humane, it drew on thoughts collected in an anonymous survey of women who shared their secret musings, fears and desires, ranging from the profound (Am I loved? Do I matter?) to the mundane (Oh my god! I have a huge hair on my chin! How did I not notice that yesterday?). Six singers and six musicians recorded the nearly hour-long work, ending with all 12 voices singing in unison. The work also incorporated audience thoughts submitted in the foyer beforehand.
Commissioned with funds from an Australia Council for the Arts grant, Hidden Thoughts I went on to win the prestigious Paul Lowin Song Cycle Prize in 2019, with the jury praising its "innovative and beautifully nuanced score with the compelling text always shining through".
This piece represented a personal and professional breakthrough for Abbott. She was already an established Australian composer with works performed, published and recorded, but this piece was special. The seed of the idea had come to her many years earlier when she was a new mother of twins, listening to the raw confessions of women in her mothers' group, and thinking, "Who says that out loud? So brave!".
"That piece was my heart on my sleeve," she remembers. "It was the first time I've really felt that my music, and who I am as a person, met together. I was really happy with the result. Often I'm full of doubts, but with this I felt I was sitting in my strengths."
Sitting in those strengths, she realised the letters to asylum seekers were another collection of hidden thoughts. "It was a knowing, that I was on to something."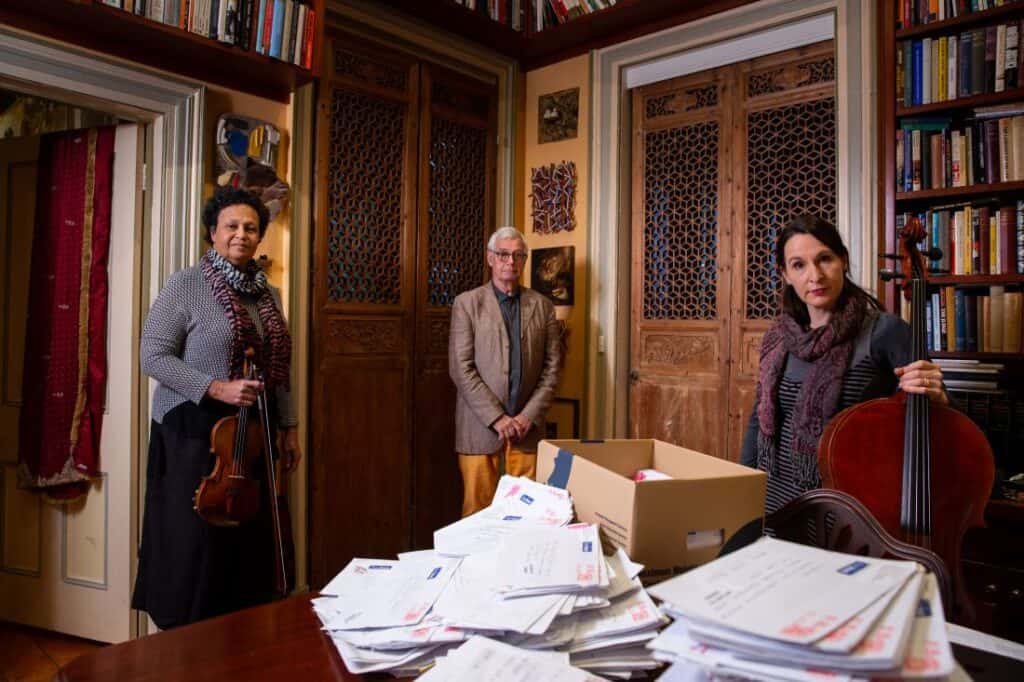 L to R: Wilma Smith (violin with Flinders Quartet), Barrister Julian Burnside QC, and Zoe Knighton (cellist and Flinders Quartet co-founder). By Agatha Yim.
Still, it took some courage to email Julian Burnside, asking him for access to the letters. He happened to be the patron of the Flinders Quartet, for whom Abbott was creating the work to celebrate their 20th anniversary, so that helped with the connection. He replied the same day, glad the letters could be used for something creative. Opening the sealed letters, Abbott sometimes found herself in tears. "I kept thinking this wasn't meant for me. It was an honour. It felt big."
She made her way through about 400 of the individual letters, working with writer, poet and friend Maureen Johnson to identify recurrent themes, phrases and feelings. "You could hear the distance between the words and the person they were intended for, and once I was aware of that, I was able to play with that feeling of close and distant and create it musically."
Food and geography (specific places like Wollongong, the hills of Perth, Melbourne and Geelong) recur, as do the words "I hope" and the concept of "shame". These are spun into the text to be sung and spoken, concluding with the idea of "welcome".
When asked if text or music comes first, Abbott says it's a very haphazard and non-linear process. "What I do know is that, although I can't come up with the words myself, I can recognise what's singable. My imagination goes wild when I see something great."
Abbott is remarkably open about the fears and insecurities of the creative process ("What if I don't do justice to the letters? What if I my work is so simple it's seen as simplistic?"). But she's also candid about the new strength and confidence she's finding in mid life "to call myself an artist who uses music to tell stories of heart, and even to explore making a business".
Teaching and research at the University are part of the whole picture for Abbott, who has been on staff since 2013, and in a continuing part-time position since 2015. She says it's a wonderfully supportive work culture for academics who are also artists. Especially appreciated is the fact that a piece of music, a recording or a performance can be seen as a piece of standalone research.
Is there one nugget of advice she finds herself offering to her composing students all the time? She laughs. "If they read this, they'll say, 'Oh there's Katy banging on about that again,' but it's something creatives can struggle with. I remember hearing John Cleese say this: that we are often so uncomfortable with aspects of the creative process that we jump to the first solution in order to relieve our feelings, instead of really wrestling with ourselves for the right solution. We have to learn to get comfortable being uncomfortable."